Be it a wedding, an anniversary or a birthday party, Arapina Vegan Bakery, London has got you covered. Order freshly baked cakes and more.
We offer delivery across the country so you can enjoy our delicious, healthy cakes and bakes, including our best-selling vegan pain au chocolat, a selection of colourful cakes and savoury treats.
From restaurants and offices to independent clients, we deliver our indulgent, free-from healthy pastries and cakes that your customers will love. If you're looking for a way to sweeten up your business, we'll provide you with everything you need to make your customers smile.
Everything we make comes with a serving of joy! You'll notice this straight away the minute you step inside our vegan/vegetarian bakery, where you'll be greeted with our trademark sunny decor and the team's warm smiles.
Read more
Become a regular, and pop by to pick up some well-deserved vegan treats, such as our legendary vegan brownies, vegan cakes, or vegan gluten-free cupcakes. At Arapina, we make sure everything tastes glorious and moreish, regardless of dietary restrictions - you'll be amazed at just how many options you can now (finally!) enjoy.

Unlike other bakeries, we make all our counter treats fresh, as everything is created on-site. Choose from vegan, vegetarian, gluten-free and even sugar-free options! Plus, we're excited to offer a breakfast and brunch menu all day long.

If you have a big event to plan, you're in the right place because our celebration cakes are the best in town. As we already mentioned, this is a no-compromise bakery and that's why we can make wedding cakes, any birthday cakes, and even bespoke cakes for that extra personal touch, whilst still catering to wheat-free, dairy-free, and plant-based diets.

Arapina started its humble beginnings in Crete, and we've brought this ingrained love for all things Mediterranean to London - we create everything with a zest for life, allowing our customers to enjoy the simple things at the highest quality.

After launching our first bakery in Greenwich on the vibrant Little Thames Walk, it was clear people from all over couldn't get enough of our products, so we built our second bakery in East Dulwich on the bustling Lordship Lane. More recently, you can find us at four different weekend markets from 10 am across South London! On Saturdays, we're at Greenwich and Brockley markets, and on Sundays, we'll be ready to serve you at Herne Hill and Canada Water markets.

So, what are you waiting for? Visit Arapina today, enjoy a surprisingly vast range, and discover your new favourite go-to bakery for all those macarons, rolls, and croissants you thought you couldn't have before. And don't forget - we deliver! If you're further afield or would just like to take it easy, let us bring you your favourite bakes, cakes, sweet treats and vegan goodies right to your door, wherever you are. Read less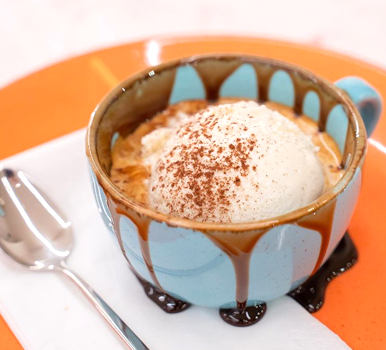 affogato
The renowned Italian dessert, is now served at our bakeries with an arapina twist. Plant based vanilla ice-cream, a double shot of our fair-trade coffee and our signature homemade chocolate syrup is all you need for a quick but healthy fix. Enjoyed after lunch or on its own.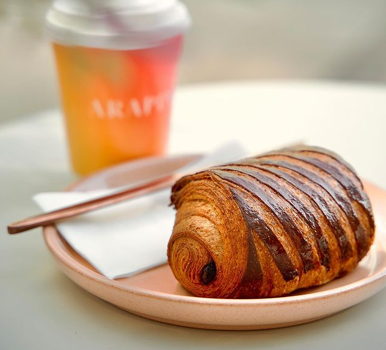 pain au chocolat
There is a reason why the Financial Times mentioned us as the top 5 free-from places to eat in London. What's that? Our pain au chocolate of course, and not only that! Who can resist these folds combined with a light buttery flavor and melted chocolate in the middle? Find it on our bakeries and all south east markets.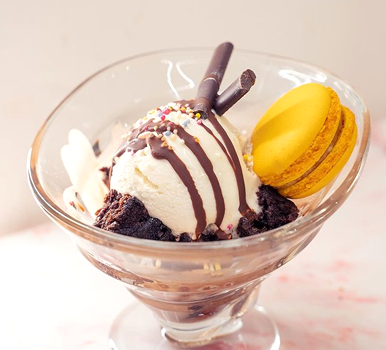 arapina's sundae
Warm brownie and ice-cream? Mmmmm… truly mouth filling brownie pieces, plant based ice cream, a macaron of your choice, chocolate sticks and sprinkles is a combination that pleases adults and children. All plant based and gluten free. Available at our bakeries.