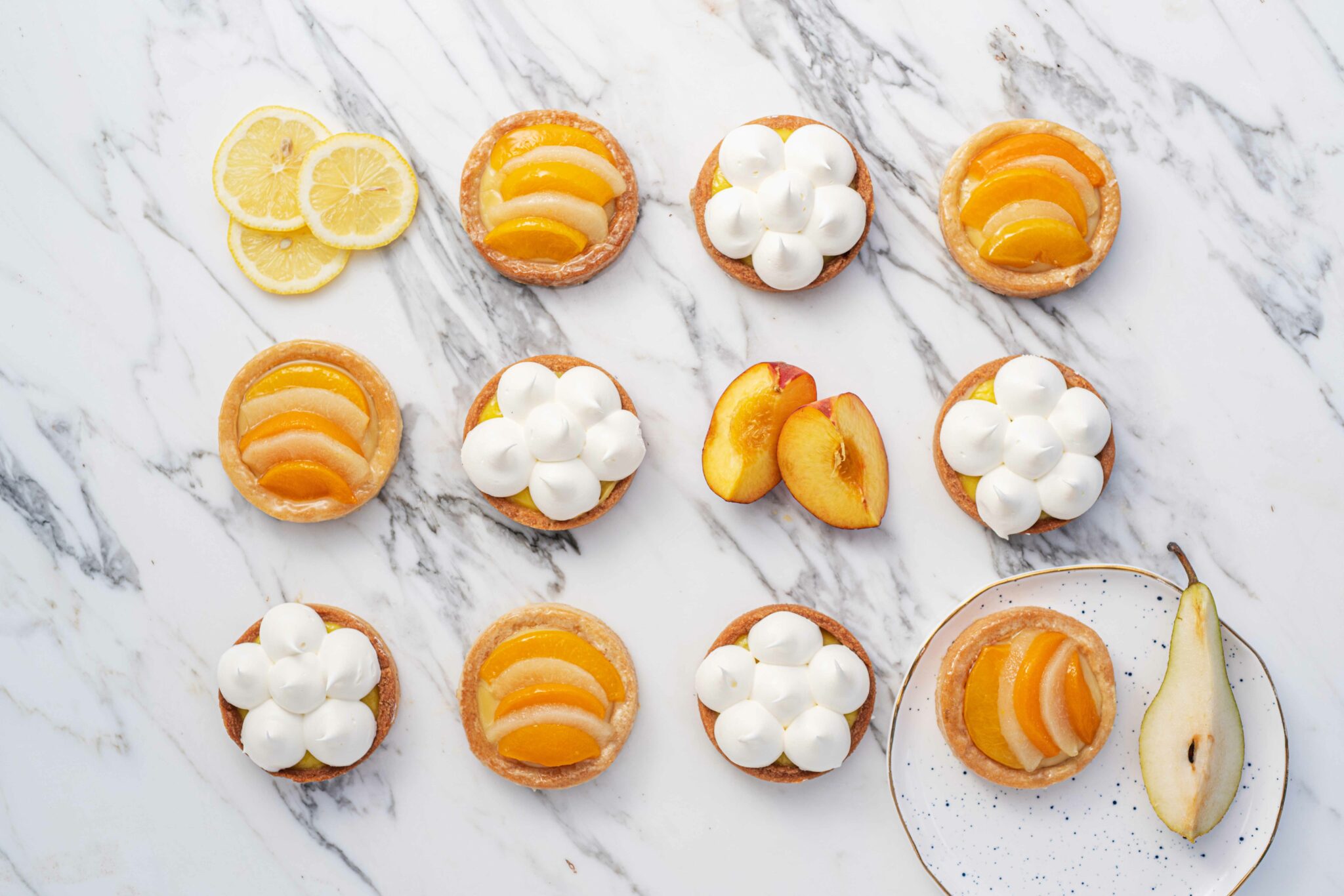 box of 12 tarts
£45.00
Fancy a tart? We've got the best combinations for you! Whether you will choose from our core or seasonal menu, we promise you will be hooked!
Lemon: The equivalent of a luscious lemon tart made vegan. A simple bite will make you feel, you are strolling along the Sicilian cobbled alley ways, so we highly recommend you give this a go!
Strawberry: Fresh strawberries, sitting on a rich almond paste filling is a classic combination suitable for all palettes. We guarantee happiness with the first bite.
Seasonal tarts:
Peach & pear: Sweet and fragrant flavours of peach and pear, layered on a base of our homemade lemon curd. This is the tart to go for when pleasing the crowds is the party goal.
Sweet spice pumpkin: Our autumn favourite, sweet and spicy, this tart was created for those who do not like sweets that are too sweet. You get us? Perfectly balanced this tart encapsulates everything that this season is! Available in October only.
Nutritional Information
Nutritional Information
Per entire serving(100g)
Per 100g
Energy
264.3kcal/1127.1kJ
264.3kcal/1127.1kJ
Fat
0.7g
0.7g
of which

saturated

0.2g
0.2g
Carbs
60.8g
60.8g
of which

sugars

22g
22g
Added Sugar
21.5g
21.5g
Fibre
2g
2g
Protein
4.6g
4.6g
Salt
0.02g
0.02g
Adult average intake (2000kcal/8400kJ)
Nutritional Information
Per entire serving(100g)
Per 100g
Energy
338.0kcal/1440.8kJ
338.0kcal/1440.8kJ
Fat
1.4g
1.4g
of which

saturated

0.8g
0.8g
Carbs
76.7g
76.7g
of which

sugars

27.5g
27.5g
Added Sugar
27.1g
27.1g
Fibre
2.6g
2.6g
Protein
5.8g
5.8g
Salt
0.02g
0.02g
Adult average intake (2000kcal/8400kJ)
Nutritional Information
Per entire serving(100g)
Per 100g
Energy
238.0kcal/1010.8kJ
238.0kcal/1010.8kJ
Fat
5.1g
5.1g
of which

saturated

4.7g
4.7g
Carbs
4.71g
4.71
of which

sugars

30.2g
30.2g
Added sugars
29.1g
29.1g
Fibre
1.2g
1.2g
Protein
1.6g
1.6g
Salt
0.06g
0.06g
Adult average intake (2000kcal/8400kJ)
Nutritional Information
Per entire serving (130g)
Per 100g
Energy
225.1kcal/952.2kJ
173.2kcal/732.5kJ
Fat
5.6g
4.3
of which

saturated

0.3g
0.2g
Carbs
40.7g
31.2g
of which

sugars

16.5g
12.7g
Added Sugar
14.3g
11g
Fibre
0.9g
0.7g
Protein
3g
2.3g
Salt
0.1g
0.08g
Adult average intake (2000kcal/8400kJ)