---
Everything we make comes with a serving of joy! You'll notice this straight away the minute you step inside our vegan/vegetarian bakery, where you'll be greeted with our trademark sunny decor and the team's warm smiles. Become a regular, and pop by to pick up some well-deserved vegan treats, such as our legendary
vegan brownies
,
vegan cakes
, or
vegan gluten-free cupcakes
. At Arapina, we make sure everything tastes glorious and moreish, regardless of dietary restrictions - you'll be amazed at just how many options you can now (finally!) enjoy.
---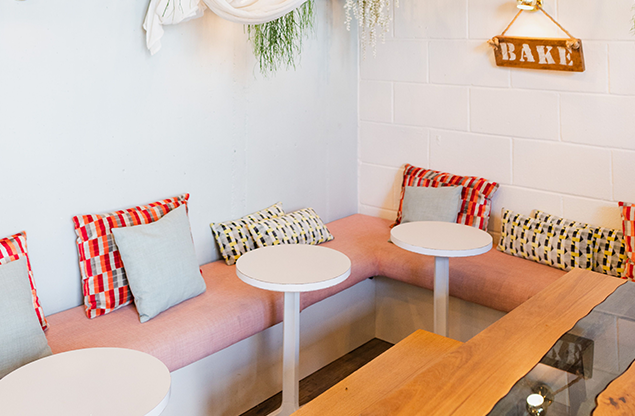 Based on the square of Trinity Laban, the Nobel Prize Building by Herzog de Meron, Arapina offers a cozy environment worthy of the award winning food that it offers. With a state of the art open plan professional kitchen and our carefully curated indoor garden it is no wonder why we are so popular. Known for its vegan and gluten free pancakes, the most creamy scrambled eggs and our vegan donuts, this is defintely the place to be.
8 Little Thames Walk, SE8 3FB, London, UK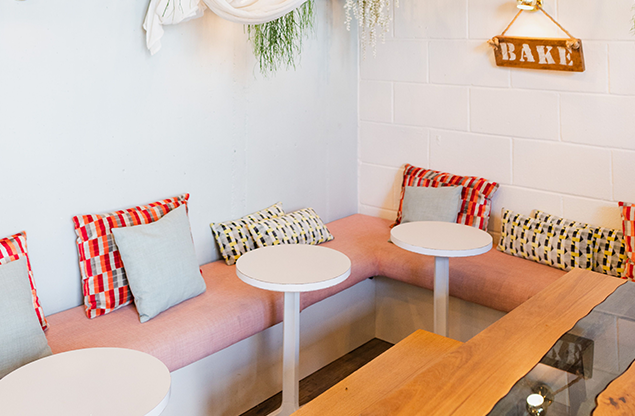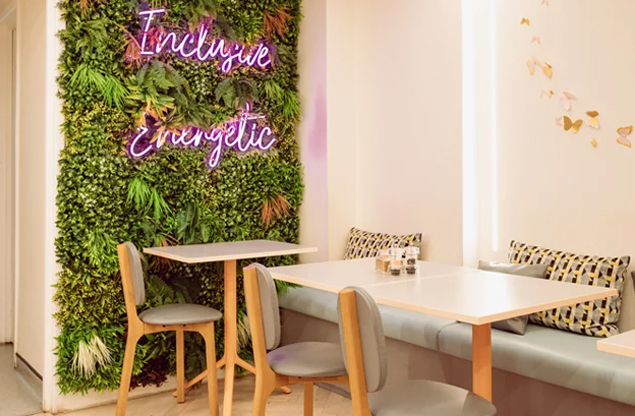 Lordship Lane is the centre of East Dulwich. Arapina's second bakery had to open its door in this trendy and vibrant neighbourhood. Located right in the centre of the iconic Lordship Lane, you can't miss the spot as it sits next to the only cherry blossom. Walk into a modern & sophisticated dining area with a foliage wall, bringing the outside in.
48 Lordship Ln, East Dulwich, SE22 8HJ, London, UK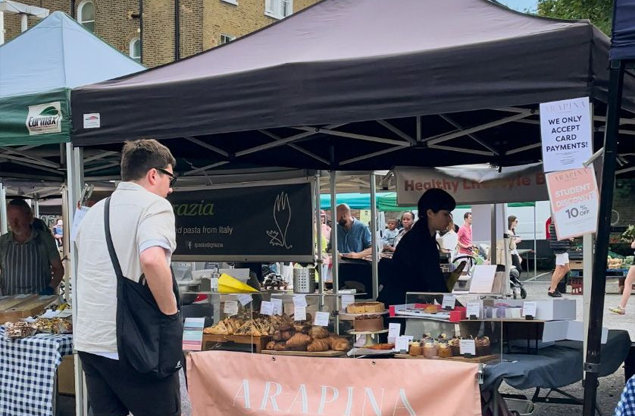 Situated at the Lewisham college car park, Brockley market is a bustling Saturday market for local fresh produce, artisan breads, plants, flowers and of course vegan baked goods, offered by Arapina. Find us right opposite the entrance of the market, but don't take too late as we are usually sold out by 13:00!
Lewisham College Carpark Lewisham Way, SE4 1UT, London, UK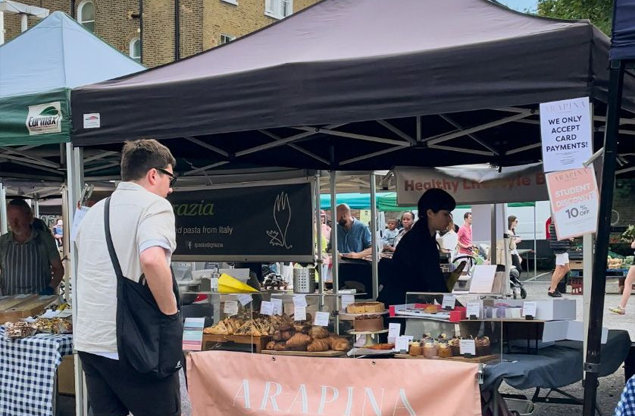 toast /croissant with vegan butter & jam VE, NF
porridge with banana, walnuts & honey VE, GF
2 poached eggs on sourdough V, NF, SF
avocado on rye bread with chilli flakes & toasted super seeds VE, NF, SF
buttermilk pancakes with 1 syrup & toppings
syrups: maple syrup or chocolate
toppings: vanilla ice cream / strawberries / banana / chocolate chips / oreo / brownie almonds / roasted vegetables / roasted cherry tomatoes / 2 poached eggs mushrooms / avocado / 2 sausages / beans / feta
arapina vegan breakfast paprika hummus, avacado, roasted cherry tomatoes, 2 sausages, mushrooms, beans, sourdough toast VE, NF, SF
arapina veggie breakfast 3 scrambled eggs, 2 sausages, roasted cherry tomatoes, mushrooms, beans, sourdough toast V, NF, SF
TOASTED SANDWICHES (ask for gf/wf bread)
+
-
all sandwiches are made on our wholemeal sourdough & can be served with a side of greek salad for extra £3.50
homemade pesto beef tomato, mozzarella & homemade pesto V, NF, SF
triple veggie avocado, boiled egg, tomato & vegan mayo V, SF, NF
creamy & sour mushrooms, avocado, pickled onions & vegan mayo VE, NF, SF
mediterranean roasted vegetables with homemade paprika hummus VE, NF, SF
vegan heaven avocado, sun dried tomatoes, walnuts & vegan mayo VE, SF
SOUPS & SALADS (ask for gf/wf bread)
+
-
soup of the day served with bread VE, NF, SF
add chilli & cheese bread V, NF, SF
greek salad cherry tomatoes, cucumbers, peppers, olives, feta cheese V or VE, NF, SF
arapina salad spinach, avocado, walnuts, sun dried tomatoes
V or VE, SF
cretan salad cherry tomatoes, cucumbers, red onions, olives, capers, feta cheese, free range egg V or VE, NF, SF
DRINKS (oat milk / decaf - free of charge, soya/coconut milk/CBD oil/extra shot £0.50)
+
-
espresso (single)
macchiato (double)
americano
loose leaf tea / tea pot
english breakfast, earl grey, green tea, massala chai, jasmine tea, decaffeinated tea
mint & peppermint, decaf breakfast, chamomile, berry & hibiscus, organic vanilla rooibos
cortado (double)
cappuccino / flat white
latte / hot chocolate / natural remedy fresh tea
orange, lemon, ginger & mint VE, GF, SF
mocha / vanilla latte / caramel latte / massala chai latte
matcha latte
iced americano / freddo espresso
iced latte
freshly squeezed orange juice
freddo cappuccino
iced mocha / vanilla / caramel / matcha latte
SMOOTHIES (all of our smoothies are VE, GF, NF, SF)
+
-
barbados kale, banana, strawberry, apple juice
london spinach, avocado, cucumber, mint, apple juice
bangkok scarrot, beetroot, ginger, orange juice
miami mango, orange & lime juice, sea salt
capri strawberries, raspberries, blueberries, orange & lemon juice, basil leaves
MILKSHAKES (V, VE, GF, NF)
+
-
chocolate & oreo
strawberries & cream
Celebrate life:
Order your bespoke cake & all your party catering from us. We specialize in vegan, vegetarian, free from gluten & sugar baking.
V: Vegetarian VE: Vegan GF: Gluten Free SF: Sugar Free NF: Nut Free
PLEASE ASK US FOR ANY DIETARY REQUIREMENTS YOU MAY HAVE AND WE WILL BE HAPPY TO ASSIST YOU.