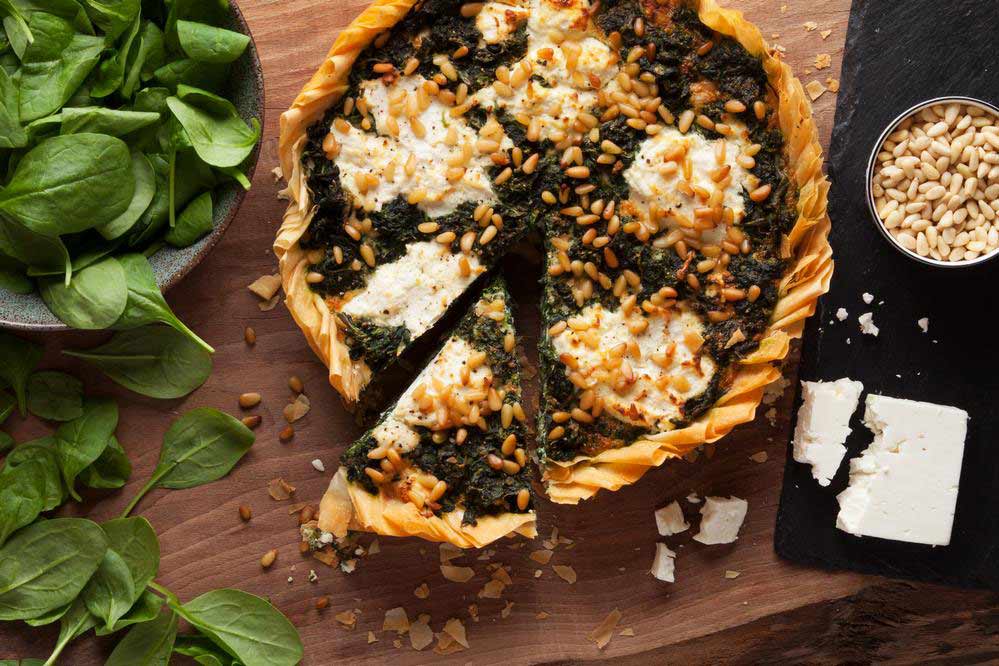 spinach, feta & pine nuts quiche
£40.00
Tastes as good as it looks, balancing layers of our signature filo pastry with a deep layer of incredible spinach & feta filling. Slowly cooked fresh spinach with onions, garlic & leeks, all beautifully seasoned with a thick chunks of feta spread all over. Topped with good amounts of pine nuts for that extra crunch. An 11inch deep- filled quiche, and a firm bestseller out of our quiche range! Can be eaten warmed up or cold – either way you'll want another slice!
Nutritional Information
Nutritional Information
Per entire serving(Yield Qty:12)
Per 100g
Energy
5916kcal/24533kJ
264kcal/1095KJ
Fat
480g
21g
of which

saturated

215g
9.6g
Carbohydrates
231g
10g
of which

sugars

22g
1g
Fibre
21g
0.9g
Protein
158g
7.1g
Salt
17.4g
0.78g
Adult average intake (2000kcal/8400kJ)
Allergens: contains almonds, cashews, may contain milk and sulphites.
Good to Know Fact
Zinc is an essential nutrient. Your body can't produce it, or store it, so you need to find it in your diet. Its good for your immune system, healing wounds, skin health and your bodies growth and development. It also helps with your sense of taste and smell. So you can tell just how tasty food from Arapina truly is!